Here's How to Heal: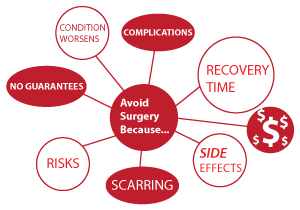 In order to get your back injury fully healed as fast and effectively as possible, you need to treat the injury. Painkillers and anti-inflammatories DO NOT help you heal and can even make the healing process longer, and having surgery will mean long-term consequences and prevent full recovery. Instead, you need to alleviate the swelling and discomfort, then promote bloodflow to the area to heal the injury.
It's recommended you use ColdCure® and BFST® (Blood Flow Stimulation Therapy™) wraps. Both are high quality medical devices that set the industry standard for injury treatment.
Here's what you need to do:
Use ColdCure® to reduce the pain and reduce the swelling
Use BFST® every day to improve blood flow and repair the damaged tissue
Avoid straining your injured back
BFST® Repairs the Tissue

Using advanced technology, Blood Flow Stimulation Therapy™ (BFST®) medical devices promote increased circulation, accelerating the healing process to the next level. Blood flow is crucial to fast tissue repair! Use BFST® to heal the tissue after your swelling.

Click here for more information!

ColdCure® Treats the Pain

ColdCure® cold packs relieve pain and reduce inflammation after your injury. These wraps can hold the cold longer than other cold wraps using RigiGel® technology which also distributes cold evenly over the injured area. Cold is much safer than ice, which is too cold and can burn skin.

Click here for more information!
Certified Medical Devices
ColdCure® and BFST® Back Wraps are FDA registered, and are certified safe medical treatments for back injuries. You can rest easy knowing you are using only professional treatment to heal your injury.
The Ultimate Solution
Recovery can be easy if you use the right treatment. Simply follow these steps to get you and your injury on the road to fast recovery.
Step One: Reduce the Swelling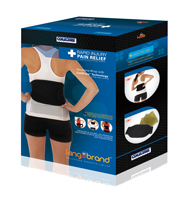 To reduce the inflammation or pain following a back injury, use a ColdCure® Back Wrap for the best post-injury treatment. Before you can start healing, you need to make sure the swelling is gone. ColdCure® wraps, unlike other gels, hold their shape and spread the cold out evenly over the damaged torso or waist. Cold is better than using ice, which burns the skin and is uncomfortable to wear. ColdCure® wraps are stored in the fridge and keep that cold in longer than other wraps, so you can wear it without switching out gels as often.
Step Two: Heal the Tissue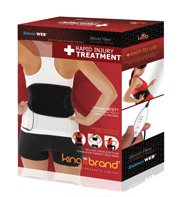 In order to heal quickly, you need to take action to accelerate the healing process. One of the best ways to do this is to improve your circulation. Better blood flow means that your body can deliver oxygen- and nutrient-rich blood to the injured back, for the fastest treatment. A Blood Flow Stimulation Therapy™ (BFST®) Back Wrap offers the best solution, as it penetrates deep under the skin to the damaged tissue.
REMEMBER: If you are still experiencing swelling, you need to reduce the inflammation before using BFST® to heal the tissue. Using heat or BFST® before the swelling in your back has gone down will only make your injury worse. Do not combine cold and hot treatments at the same time.
Advertisement

Comfortable High Quality Wraps
Both wraps uphold a high standard of comfort. Each is made of soft, high quality Neoprene and crafted specifically for back injuries. These devices are shaped with your injury in mind. The ColdCure® gel itself is no ordinary design. It is made to surround the entire injured area, enveloping it with the pain relieving power of RigiGel®. The BFST's® patented Energy Web® is also designed to provide coverage across the whole injury, and improves circulation throughout the area.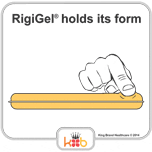 These wraps work great for:
Sciatica
Back Fatigue
Pulled Back Muscles
Cramping
Other Back injuries
For more a more in-depth explanation of the functions of these wraps, we recommend browsing the ColdCure® and BFST® website.
Click here for more about these products!
Forum Content from the Health Care Company King Brand®
large body wraps (back)
Hey KB!
My mom has been having problems with her back like mid back, and I told her we should get the large body wrap to help heal her (judging by how your KB BFST wristwrap product has helped my wrist). We were disheartened to see the large body wraps out of stock on your site. When will you have them in? and can we just use the back wrap instead-she has a midback issue and I was hoping to get her feeling better ASAP. Is there any way we could buy the lower back wrap for now, and then exchange it for the larger body wrap in the future when it is in stock? Do you think the regular back wrap could be sufficient? maybe she can treat her midback twice a day and then treat the lower back seperately twice a day with the smaller back BFST--would that work?

Please let me know
Thanks for your time, customer service and wonderful products
Tony (KB BFST wrist user)
Re: large body wraps (back)
Hello Tony, Sorry to hear your mom is having back troubles. We are expecting the redeveloped large body wraps to be available around September time. However in the meantime we do recommend the Back/Hip Wrap. They are versatile, can be placed anywhere around the back, hip, or even arm or leg if required. Our 30 day return policy won't allow you to have an exchange for the large body wrap unfortunately. If you have any other questions please don't hesitate to ask. We wish your mum well with her recovery. Kind regards, Helen
Re: large body wraps (back)
OK--thanks Helen--
would you recommend we get the accessory strap as well?--want to make sure she has a perfect fit when wearing it for maximum effect--and she should wear it UNDER clothes, correct? just making sure--I use my BFST wristwrap under clothes--on just my bare skin, just wanted to make sure it's the same for the back--I imagine so, just checking.

Thanks again
Tony
Re: large body wraps (back)
Hi Tony,

Depending on her girth you may choose to buy the accessory straps - they are not included with the back/hip wraps. And yes, on bare skin is fine :)
→

Click here for the the full King Brand® Forum
Copyright 2011-2017 King Brand Healthcare Products® Limited. All Rights Reserved.
Meniscus Injury Treatment,
Muscle Injury Treatment,
Neck Injury Treatment,
Plantar Fasciitis Injury Treatment,
Shoulder Injury Treatment,
Tendon Injury Treatment,
Wrist Injury Treatment,
BFST Wraps,
Blood Flow Stimulation Medical Devices,
Blood Flow Stimulation Therapy,
Blood Flow Stimulation Wraps,
LCL Injury Treatment,
MCL Injury Treatment,
ACL Injury Treatment,
PCL Injury Treatment.
King Brand
®
ColdCure
®
Cold Therapy ice packs and gels are the best solution to your ankle soft tissue injury. King Brand
®
ColdCure
®
RigiGel
®
Ankle Wraps hold the cold longer, stay in place and are safer than any other product. Treat your ankle pain with King Brand
®
for the best results.